Mepco Net Metering | Application Process
Mepco Net Metering Actually working New technology of Solar system to generate of power of electricity to forward Mepco distribution grid station. Pakistan high performance of solar system produce electricity. Pakistan is not work, Only 2% of produce of electricity in solar and 70% of electricity producing of fuss-oil and other fuel sources. Slowly working in Pakistan improvement the generation of electricity generate of solar power. Mostly using in people solar system in tribal areas and villages not paying electricity bill . One time investment in solar ,Solar life 25 years. And rich people to setup our home and farmhouse to setup of solor power 5kwh to 10kwh over 20kwh to rooftop and produce's electricity to sale of Distribution grid .It is Mepco Net Metering.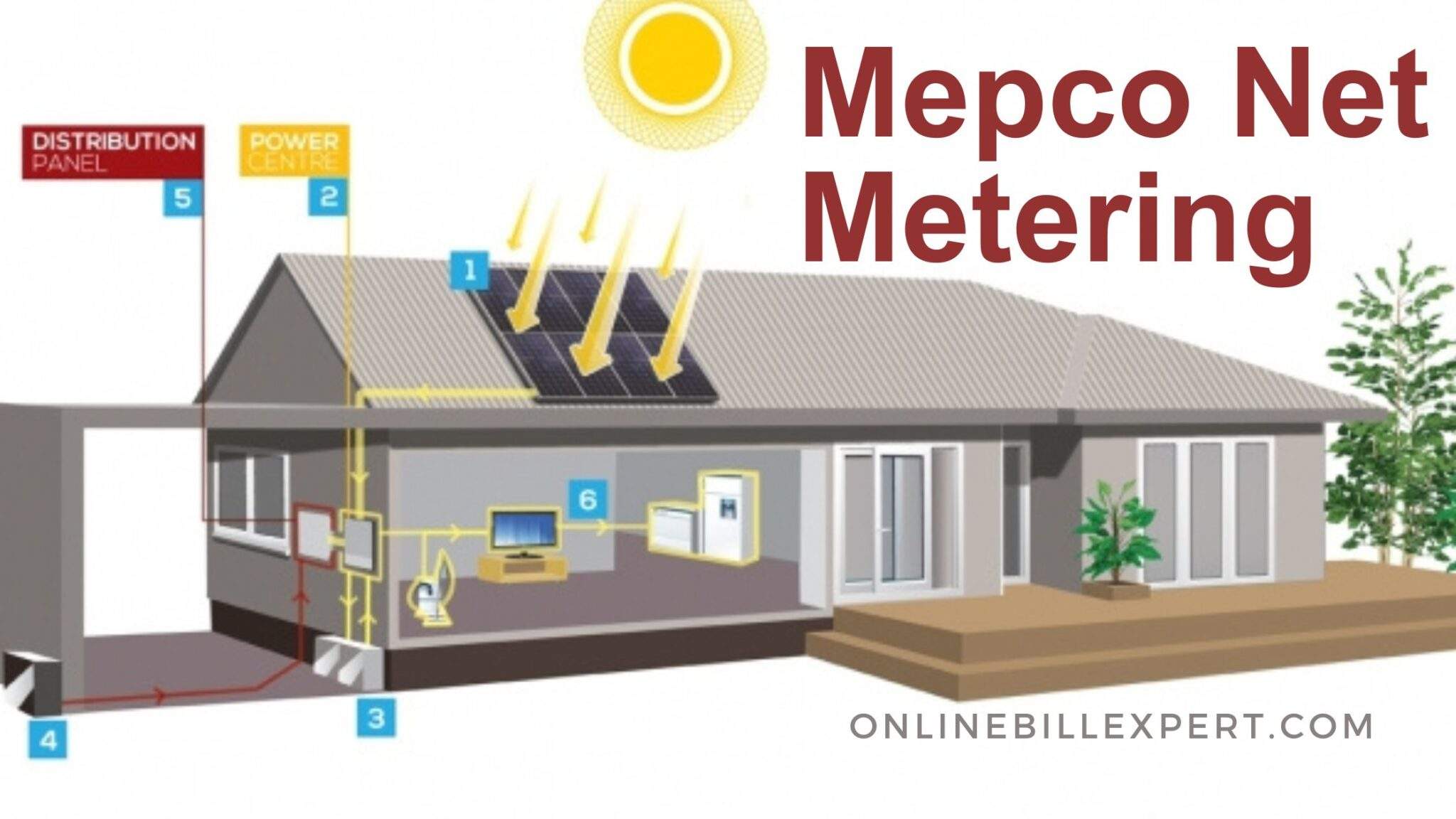 ONLINEBILLEXPERT.COM will providing different solution's of mepco here. The Mepco bill checking the reference number of consumer. A Mepco New Connection will be online and offline documentation of necessary. It Mepco Bill Calculator will be idea of estimated of consumer this month of bill. If Mepco Mis , Mepco in which defaulter personality data will be collected in disco staff. Some Mepco Complaint office in which consumer electricity problem faces for complaint.
Mepco Net Metering Working:
Mepco Net Metering Working ideas. A Processed of solar energy to dc current ,Inverter use DC to AC circuit process. Manual Switch , Uni-directional meter in KWH. AC discount switch to AC Surge Protection device, AC Distribution Box. Consumer distribution panel and consumer service connection to main switch. AC Bi directional meter in KWH to Distribution network (DISCO'S Grid).
Solar Net Metering Information:
Any one person will be apply for solar net metering in Pakistan. Only on condition is Mepco net metering policy NAPRA Policy will be criteria of eligible must requirement.
Mepco Net Metering Application Process:
Mepco Net Metering in first steup of visit to near Mepco distribution office (disco office). Ask docomentaion and application for required paper work Acknowledge must.
Next stuep is docoments ,application and peper work fourms all submite of disco office. Disco office 7 working days some missing docoments or some error docoments are required and finall submittision of right docoments.
If your appliction will be under 20 working days for reviews and eligabilty of criteria of full fillment or not. NAPRA policey creatia of eligebale or not.
If your application will not be eligible of NAPRA rules. Disco staff will be strong reason of your application will be refuse.
If your application was approved for net metering. Disco staff will be send to Sign Agreements copy for consumer 10 working days and application ,Agreements to forward of NEPRA for Licence.
After Getting Licence of NEPRA. Disco staff need of system up-gradation necessary. The system must be up-gradation needed to connection charge estimate (CCE) recommended.
Connection charges Estimate:
After 20 days ,the application will deposit payment of CCE for disco identify bank and inform writing of office.After payment will be ok to NEPRA Licence issue. and next 30 days approximated your connection will be live.
Conculsion:
The Mepco Net Metering Application Process of provieding onlinebillexpert.com . The more information of Net Metering who works, Solar net metering information, Net metering application process, Agreements and licence, Connection charges estimate and faqs.
FAQS: